This is the place to start if you want a paid search campaign. Google Adwords receive the most searches conducted and they have the largest inventory of display advertising today. They have programs that include local, national, and international distribution.

Yahoo! SEM is considered to be the second paid search provider. You can use this player when you want to improve your exposure and when you dried up the reach of other providers. The potential is great if used correctly.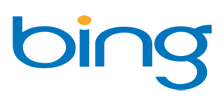 Bing is the Microsoft's search engine, the direct competitor of Google Adwords and Yahoo! SEM. But lately it is considered to give the best cost per lead/goal on average, therefore the use of this provider is more and more relevant. It also has a large paid search inventory very easy to use.

If you want to improve your brand exposure and get more visitors to your website don't neglect the Facebook advertising. The potential is great if using creative banner advertisings and the costs are affordable (cost/visitor usually smaller and cost/lead often higher). There is also the possibility to segregate different aspects interesting to you: location, gender, interests and others.