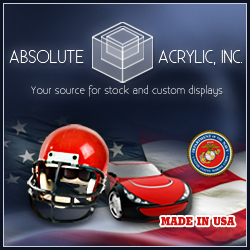 In business since 2000, Absolute Acrylic designs and manufactures stock and custom sign holders and memorabilia display cases to fit any need and budget. Items can be personalized with a company logo or message, and are proudly made in the USA with superior craftsmanship and materials..
"Our business has been expanding so rapidly, and we needed a fresh new look with enhanced features for our website," says Jim Savage, President of Absolute Acrylic. It has always been important to Jim and Kim Savage that their products be manufactured in the United States with materials from the United States. "As a former marine, I am very proud of this country and the quality of the goods and services we produce here," continued Savage. "We are committed to providing our customers with the highest quality products at a fair price."
"I have worked with Absolute Acrylics for many years, and have watched their business grow. The Savages are great people, and they work very hard to deliver great products at reasonable prices. The Absolute Acrylic website needed not only an updated look, but also improved functionality," states Lorin Morar, President of ke Solutions, Inc. "Our team worked with them to make the absoluteacrylic.com website not only visually appealing, but also user-friendly."
Absolute Acrylic's sells products to safeguard your investment and memories. Your treasures will be protected from dust, fingerprints, smudging and UV exposure, while being displayed in full view. Absolute Acrylic display products beautifully protect and showcase autographed footballs, baseballs, basketballs, boxing gloves, jerseys, pictures and other sports memorabilia. Cases can even be engraved with a company logo or message. Most standard items are in stock and ship in 1-2 days.
To learn more, please visit us online at http://www.absoluteacrylic.com or call us at 866-505-8111.
The Absolute Acrylic website is powered by ke and ke Solutions, Inc. At the heart of the website is the cutting-edge ke™ web engine that broadcasts the site's messages over the web. Fully customizable and updatable content is provided by the reliable, powerful and completely scalable web engine in order to continually meet the demands of a growing business.
About Absolute Acrylic, Inc.
Jacksonville, Florida based Absolute Acrylic, Inc. was established in 2000 by owners Jim and Kim Savage. With over 20 years of experience in acrylic fabrication, the Savages are dedicated to providing their customers with high quality displays at reasonable prices. All materials and products are proudly made in the USA.
About ke™ Solutions, Inc.
ke™ Solutions, Inc. (http://www.kesolutions.biz) under the leadership of Mr. Lorin Morar, offers rapid website development and design, ensures optimal content performance with the proprietary ke™ engine website software, as well as custom software solutions and search engine optimization. The ke™ engine is a software package of development solutions designed to allow companies to leverage the web by giving them the power to create, update and maintain their own websites. Empower your company's online presence and stay a leap ahead with ke™ Solutions, Inc.
For more information please contact: