CashDoctor.com, the leading online medical price portal, eliminates medical surprises and promotes fair pricing among healthcare professionals nationwide. Today CashDoctor.com announced doctors, dentist, hospitals, health care professionals, insurance specialist, banks and insurance companies can now list themselves on their website for FREE.
CashDoctor.com was the first web portal to provide independent healthcare price transparency and continues to be a leader in this field. CashDoctor.com allows healthcare professionals to post and control their own price schedule on the internet for consumers to view 24 hours a day.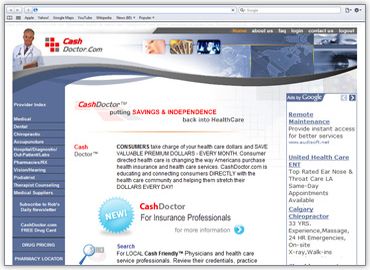 CashDoctor.com's new FREE LISTING service will allow every healthcare professional in America the opportunity to get online, stand out, be seen and encourage the transition from the current system where insurance companies keep the pricing information private to a system where information is public and access is free for all to see and utilize regardless if they are insured or not.
"The healthcare industry has an opportunity to connect with Americans by eliminating the surprise in pricing and promoting fair prices to help the uninsured and those now covered by high deductible major medical health plans. Transparent pricing is going to change the way healthcare is delivered and we have eliminated all financial barriers" said Robert Stehlin - Founder of CashDoctor.com.
According to Stehlin, Doctors, Chiropractors, Dentist, Acupuncturist, Hospitals, Urgent Care Centers can now connect with consumers who are choosing to direct their own healthcare and are looking on the internet for local services and fees. The new self-directed American is concerned with actual cost and value and is demanding this information before a visit or appointment is scheduled."
Consumer directed healthcare is changing the face of America on a daily basis. In the past year over one million health savings accounts were opened. As per a recent Harris Interactive Poll, 72% of American Adults went on line in 2005 searching for information relating to healthcare.
CashDoctor.com also allows insurance agents who specialize in HSA qualified health insurance plans to list their services on the CashDoctor.com website. Consumers can now find local agents who are willing to take the time and explain the benefits of a Health Savings Account. A recent survey from AHIP showed that 7 out of 10 Americans preferred the HSA plan over their current traditional health insurance plan when it was explained to them.
"Now that our service is free, doctors and hospitals have no excuse as to why their fee schedules are not on the internet. CashDoctor.com has made it so easy, a doctor can be on line in 15 minutes," adds Stehlin, a licensed insurance professional since 2001. "For the first time in recent history, consumers are empowered to control and direct how their health care dollars are spent and healthcare practitioners are ideally positioned to educate patients through price transparency and CashDoctor.com."
Originally created in September of 2003, CashDoctor.com has gained momentum in the wake of the Medicare Reform Act of 2003 and the formation of Health Savings Accounts (HSAs). CashDoctor.com allows the medical service provider to decrease their dependency on managed health care companies by tapping into America's exploding number of fully-insured cash patients.
For more information please contact: