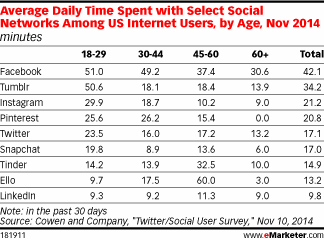 Emarketer recently published a summary of a Cowen and Company online survey that confirms these figures and provide some more details about age group differences on this measure. An article from Bloomberg Businessweek made an interesting comparison between how much time the average American spends on some common activities such as pet care (39 minutes) or household and personal e-mail (33 minutes) and Facebook (40 min). Both articles seem to show that Facebook time seems to squeeze out other activities, which could be a source of worry or contentment, depending on where you view Facebook in a mostly negative or preponderantly positive light. So, is Facebook good or bad for you?
On the positive side, there is this rather popular list of of good effects of Facebook, published by Business Daily:
Helps you relax since it improves your heart rate
Could be a better predictor for job excellence of a potential candidate as compared to classical tests
Boosts self-esteem because it allow you to present the better part of yourself
Facebook popularity of a business can raise its stock price
Limited facebook activity at work can increase employee happiness and productivity
Actively socializing via Facebook correlated with lower college dropout rates for students
Facilitates romantic attachments: 79 percent of couples send messages to their partners or chat on the social network.
On the negative side, evidence is mounting to suggest all in not well in the Facebook world:
Facebook use predicted in this study a decline in Subjective Well-Being
Significant use of Facebook can lead to social isolation and detrimental health behaviours, such as sleep deprivation or meal skipping
Facebook can become addictive because disclosing information about oneself releases dopamine in our brain and generating pleasure.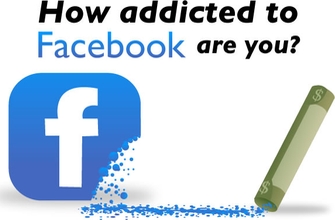 Overall, the verdict depends a lot on how much time you spend on Facebook and how easy it is for you to discontinue using it for a while. A recent review of 24 studies examining the uses and gratifications of Facebook and nine studies of Facebook addiction concluded tentatively that Facebook addiction could have a basis in reality; unfortunately, there is little consensus yet on how to measure it.
Are you truly addicted to Facebook? Let us know your thoughts and see if self-disclosure is indeed pleasurable.