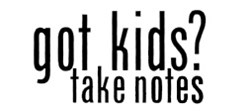 In her book, Ms. Smoker demonstrates her passion for helping families handle the pressure of parenting. Through her coaching, parents are given the opportunity to learn how to become "the parents they always wanted to have". In the end, what really matters is to be able to create a home where everyone is happy to return to at the end of the day, a home that offers love, safety and growth.
The website's warm welcoming design introduces parents and those interested to a world of exploration in the parenting domain, an issue many parents are most interested in. Therefore the information provided on this website and through this amazing book "Got kids? Take notes!" is most welcome for parents.
The About the Author section of the website describes the author of the book "Got kids? Take notes!", Norma Smoker, as a dedicated woman to her work, a sought-after speaker for family and business organizations, schools and workshops. Her topics range from personal dynamics and relationships, leadership, developing effective communication, organizational skills, to education and family matters. Norma Smoker received a Bachelor of Arts in Education from McGill University. Her involvement with family outreach began in 1990 when she founded and served as the Director of the HOME (Helping Our Mothers Excel) Group, in Fort Lauderdale, Florida.
At the About the Book section of the website, guests will find information on how personal experiences from the author's life as a parent led to the development of this fantastic book, so loved by the readers."Got kids? Take notes!" is described to be a labor of love for all the families out there and it is a compilation of Ms. Smoker's experiences and knowledge gained from her work as a radio host interviewing best-selling authors, doctors, psychologists and internationally known Fortune 500 speakers. Also, her extensive work with family outreach organizations and most important, raising her two daughters has had a major role in leading toward the final result of this popular book. She is the producer of various successful conferences as well, seminars, and special events throughout South Florida.
What the Quick Parenting Notes" section of the website brings to the reader's attention is helpful facts and advice, from the author's personal experiences, about parenting, in the format of a blog. The author's perceptions in raising children bring wonderful and interesting insights that can be of great help when parents face the specific difficulties in raising their kids at the different adorable ages. Things like: "…you are not simply raising children; you are bringing them up to become wise, independent, self-confident, happy, and responsible adults.", "…Triple dose your children with unconditional love." or "…Good etiquette breeds compliments and compliments breed self-confidence." are just a few of the wide and wise perspectives Norma Smoker brings to the reader's attention. Guests on the website's blog section are offered the opportunity to write feedback or comments directly from the blog page.
The book "Got kids? Take notes!" proves its success among parents by the feedback given by parents themselves on Amazon, where the book is available for all those interested. "Every mom and dad should read this book.", "Great book to remind us all to enjoy the parenting journey!" or "This book is excellent for moms on the run who want to have a quick word about parenting that is insightful and reminds us to cherish our children more! Great illustrations and ideas bring up children to be happy successful adults!" are just some of the feedbacks regarding the benefit of the information found in the "Got kids? Take notes!" book.
At the Recommended Resources section guests are encouraged to read a book or two on parenting every year or at least attend a parenting conference or seminar because keeping current helps refresh the outlook and brings insight into setting new goals as the children are growing up. Also, a list of the favorite books and programs is available on the website together with helpful and interesting program suggestions.
"Think about it this way: their minds are wide open like a large pot of flowers. Every word you say becomes a seed planted in their minds. By the time children reach their preteens, their minds are more like the narrow opening of a bottle of soda. They do not receive and accept as much, or as easily, as they did the first ten years of their lives. Remember, you only get one shot at it!" says the author Norma Smoker; therefore being updated and informed on parenting can be crucial in raising a child.
Visit the website http://www.gotkidstakenotes.com and get ahold of all the wonderful insights and information available for everyone interested in reading this funny and honest, easy to read book about the guidance and understanding on how to bring kids up to become wise, independent, self-confident, happy and responsible adults, as well as other interesting, helpful topics that the author approaches about parenting.
When her daughter, Rachel, was five, the author Norma Smoker was the leader of a mothers' group called "HOME": Helping Our Mothers Excel. One of her favorite memories was watching Rachel climb up the ladder of her bunk bed one night, whispering under her breath, "I don't know why you're the leader of Helping Our Mothers Excel!" leaving the author herself wondering and thinking, "I don't know either."
Is there a perfect, universal method to raising children? No. Because no parents are perfect and all families are different.
About ke™ Solutions, Inc.
ke™ Solutions, Inc. (http://www.kesolutions.biz) under the leadership of Mr. Lorin Morar, offers rapid website development and design, ensures optimal content performance with the proprietary ke™ engine website software, as well as custom software solutions and search engine optimization. The ke™ engine is a software package of development solutions designed to allow companies to leverage the web by giving them the power to create, update and maintain their own websites. Empower your company's online presence and stay a leap ahead with ke™ Solutions, Inc.
For more information please contact: