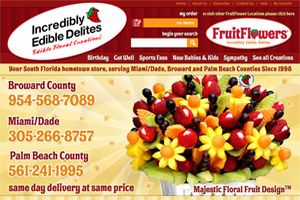 Operating in South Florida for more than a decade, Incredibly Edible Delites offers a healthy and delicious alternative to sending flowers. The bouquets are made entirely out of freshly cut fruits and vegetables, and delivered right to the customer's doorstep. Same day delivery is available at no additional charge. The company prides itself on providing impeccable customer service and serves a loyal clientele in the South Florida region.
The new website allows the company to offer attractive sales and specials specifically targeted to the South Florida market, and will provide a Spanish language option for the company's Spanish speaking clientele. Customers can order online at their convenience and trained customer service representatives will then contact them directly to complete order details and obtain billing information.
Susan Johanson-Polselli, Incredible Edible Delites franchise owner commented:
"Considerable thought has gone into the design of our online presence. The new site streamlines our existing business, and allows current and prospective customers to quickly locate us. Our products are beautifully and conveniently presented, and we can now stay in contact with our clientele through the embedded product feedback and newsletter features, as well as Social Networking links. ke™ Solutions worked with us for over one year to create a website that far exceeded our expectations – all for a very competitive price. Their dedication and the quality of their work have helped to redefine our business."
At the heart of the new website, www.edibledelites.us, is the cutting-edge ke™ web engine that broadcasts business owners' messages over the web. Fully customizable and updatable content is provided by the reliable, powerful and completely scalable web engine in order to continually meet the demands of a growing business.
Another essential component of the Incredibly Edible Delites online strategy is Social Marketing and Search Engine Optimization, a key aspect to the success of any online enterprise. Increasing the notoriety of products and services within the target market is of vital importance. SEO ensures that visitors find the website. New customers are brought to the client's website daily by increasing the organic traffic coming from search engines and Social Networks, like Facebook.
To celebrate the launch of the new website, Incredibly Edible Delites is offering two very special discounts for anyone who wants to eat flowers! To take advantage of this special offer, please visit the link: www.edibledelites.us/getthespecial.
ke™ Solutions provides superior service in website design and planning, focusing on usability and maintainability, with 24/7 customer support. We provide, with proven results, Social Marketing services, Google Apps for Business integration, Google AdWords and Analytics management and more. For more information about ke™ Solutions please visit kesolutions.biz or contact ke™ Solutions at (954) 778-5350.
About Incredibly Edible Delites
In 1998 the first Incredibly Edible Delites store opened in Southeast Florida, and ultimately expanded to cover Palm Beach, Miami/Dade and Broward Counties. Customers have come to realize that their everyday expectations of product quality, excellence in customer service and unique gifts are always fulfilled. Incredibly Edible Delites offers a tasteful, elegant and refreshing way to celebrate special occasions, express sympathy or simply say "thinking of you". With FruitFlowers from Incredibly Edible Delites, a wide selection of fresh fruit and vegetable bouquets are available daily to satisfy everyone's needs. The knowledgeable staff can describe each bouquet in detail and make the perfect suggestion for every gift-giving occasion. Every one of the fruit bouquets is also available with hand-dipped chocolate-covered strawberries. For ordering or information please call the local number: in Broward County call (954) 568-7089, in Miami/Dade area call (305) 266-8757, and in Palm Beach call (561) 241-195.
About ke™ Solutions, Inc.
ke™ Solutions, Inc. (www.kesolutions.biz) under the leadership of Mr. Lorin Morar, offers rapid website development and design, ensures optimal content performance with the proprietary ke™ engine website software, as well as custom software solutions and search engine optimization. The ke™ engine is a software package of development solutions designed to allow companies to leverage the web by giving them the power to create, update and maintain their own websites. With a team of highly experienced global designers, computer programmers and SEO experts, as well as an emphasis on quality service, ke™ Solutions, Inc. is unparalleled in meeting and exceeding client's expectations. Empower your company's online presence and stay a leap ahead with ke™ Solutions, Inc.
For more information please contact: