Fort Lauderdale,FL, August 4, 2008 - Jewelry, at J.R. Jewelers online store, is more accessible than ever before, as the company's website has been going through a series of changes. J.R. Jewelers has included more explicit friendly titles and dynamic menus for the potential clients visiting the website. The changes have made the website content more accessible for the visitors and the jewelry selections have clear descriptions on what they contain in order for the public to quickly navigate the content and make the right choice.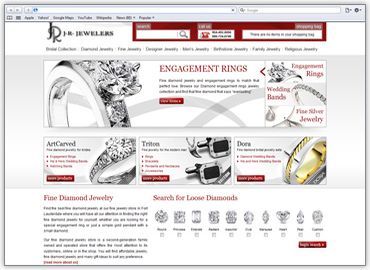 Reaching the customers and allowing customers to reach J.R. Jewelers online store has become an essential goal for the business. Bob Mushro, one of the co-owners of J.R. Jewelers says: "What better way is there to show interest towards the clients than making your business more transparent and user friendly? We have planned a website improvement in order to make the website clear, complete and easily reachable by visitors. We want to earn the visitors' trust by enhancing our degree of online visibility and by offering high quality products."
New collections and several new items have been added to the jewelry available already on the website. In order to keep up with the jewelry trends and fashion, J.R. Jewelers has added many unique designs: new Artcarved palladium rings for the bridal collection, palladium wedding bands, men's tungsten rings, tungsten carbide wedding rings and titanium jewelry for men.
J.R. Jewelers is offering an attractive 10% discount for the readers of this press release. The discount code is: J.R.OFFER/OPTIM. When ordering a product, the visitor must input this code where indicated in the shopping cart. The offer is valid until 15th of September. For a longer period of discounts the visitor should subscribe to the monthly J.R. Jewelers newsletter. By doing this, all the offers and up-to-date information about J.R. Jewelers will be provided to visitors.
About J.R. Jewelers
J.R. Jewelers is a brick and mortar company and a family business with thirty-five years experience in the jewelry business. Their respect for the customers, personalized attention and strict business ethics has sustained J.R. Jewelers on the market as a successful jewelry store with a good reputation for offering the finest quality jewelry at affordable prices.
About ke Solutions Inc.
ke Solution is under the leadership of Mr. Lorin Morar and offers a dynamic combination of a high quality product and customer service. With over 15 years of software development experience, Mr. Lorin Morar possesses extensive background in full-cycle product development and he is the creator of a unique website software, ke. The company offers an efficient website planning, design, implementation and maintenance with a personal touch. With a winning team of global designers, computer programmers and SEO experts, and Mr. Morar's expertise at their disposal, clients' needs are fully satisfied. ke Solution can evolve your website into a concise efficient and productive one. Empower your company's online presence and stay a leap ahead with ke Solution Inc.!
For more information please contact: