If you were to learn that mobile payments have experienced a 300% rise in just one year, how would that affect your business strategy? If you don't know yet, you are in danger of falling behind, since the recent 2015 Global Mobile Consumer Survey - a massive undertaking covering 6 continents, 31 countries, and nearly 50,000 respondents - demonstrates exactly the kind of exponential growth your business needs to keep an eye for. Here are some of the most interesting findings for us:
1. 92% use smartphones while shopping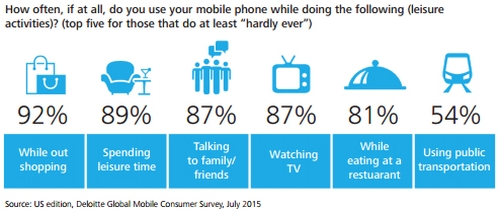 Shopping - not idle time - is the activity that correlates the most with smartphone usage. We all know that people check news, read books and exchange messages on public transport or while watching TV, but what do they do with their smartphones while shopping? Well... for shopping! The good news for businesses that invested in mobile marketing is that people really do check shopping information while shopping to help them make up their minds.
2. Add mobile payment increased adoption
Deloitte reports a roughly 300% increase in mobile payment adoption in comparison with 2014. What can we expect for mPayments next year? If the trend continues, we could be looking at close to 50%!
Security is the top reason for not making an in-store payment: 50% of all respondents find it a barrier to adoption. However, this could be simply the result of ignorance or normal caution when dealing with something new. After all, the age group that is generally more informed about smartphone technologies report significantly higher adoption rates for mobile payments: 31% of 18-to-24-year olds and 36 % of 25-to-34-year olds.
3. What would people use mobile payments for, if given the chance?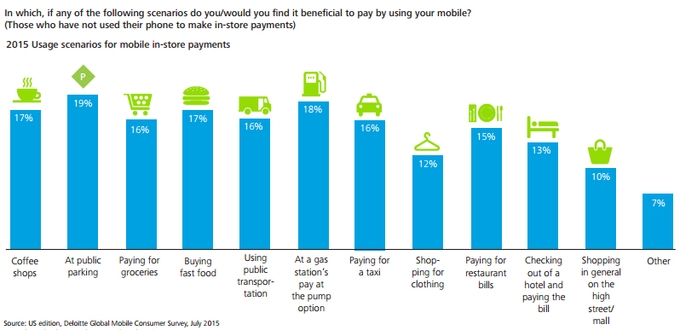 Paying for parking, gas, coffee or fast food are listed by almost a fifth of their respondents. Even groceries and shopping are doing that bad, taking into account that just some years ago mobile payments were sort of like SciFi: 16% and 10%, respectively, would appreciate mobile payments in these segments.
We've made it our goal to facilitate business-oriented app deployment to the degree that an SMB or even an individual could get his own customized app in 24 hours or less. This month, as part of #DecemberApp - a joint offer by ke Solutions and AppzBizz - you can get a premium custom native app built for $800 and have it the next day.
Just in time for holidays!