Sanastar launches the new WizKid antimicrobial urinal and commode mat that keeps your company's restroom odor-free and germ-free.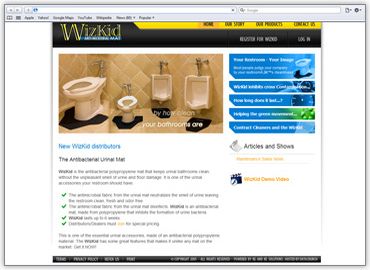 Fort Lauderdale, FL, July 18, 2008 - Sanastar launched the new antimicrobial product for restrooms, the WizKid Commode and Urinal mat. Because of its unique design, this innovative disposable mat fits both commode and urinals. It is placed under urinals or commodes but due to its shape, users do not step on it. The rubber back helps it stay in place and yet makes it easily disposable.
The WizKid Urinal Mat is a 100% American product, as a matter of fact the only U.S. patented product of this kind. Produced and distributed in the USA, the urinal mat is set to be featured at the ISSA show in Las Vegas as the new antimicrobial toilet mat.
The WizKid Commode and Urinal mat offers unique features:
A strong antimicrobial is embedded into the fibers and not topically applied on top of the mat. This allows the urinal mat to last a longer time. It stops the foul odors, caused by developing bathroom bacteria.
It catches the urine drips or spills. WizKid is there to catch what the toilet misses. It helps maintain the toilet sanitation by keeping the restrooms germ-free and odor-free
It protects the restroom floor from being damaged or stained. The urine will no longer touch the tile or grouts.
It is highly beneficial for restrooms that do not have a urinal or service both men and women's restroom, due to its perfect-fit shape for any kind of toilet.
It helps against cross-contamination. Up to this point all the toilet mats did not help with cross contamination because the person had to stand on the mat. Once on the mat, anything that was picked up on the shoes was deposited wherever the restroom user went. The WizKid Commode Mat's revolutionary shape allows the restroom user to avoid contact with the mat. Its truncated shape allows you to use the toilet without having to step or touch the mat.
WizKid should shortly become a standard in toilet sanitation, due to its improved toilet mat features. Sanastar Inc. President Jeff Crevier says: "We have schools, office buildings, restaurants, and even airports ready to buy our urinal mats. It is a safe product; it keeps the restroom clean and hospitable, odor and germ free. WizKid will soon become a must, as restroom hygiene is a clear indicator of a company's image."
The US and worldwide distribution is executed through the company's business portal, www.sanastar.com, supported and maintained by ke Solution, and powered by the proprietary ke engine.
About Sanastar Inc.
Sanastar is the company that created WizKid Urinal Mat. The company patented he product, it being truly different from what the public was used to. Sanastar designed this product to be efficient in maintaining the hygiene of public restrooms. They designed a product that leaves the bathroom both odor-free and germ-free, and that helps prevent floor damage.
About ke Solutions Inc.
ke Solutions Inc. 'a notch above the rest' is under the leadership of CEO Mr. Lorin Morar. This Romanian-born, creator of unique ke engine website software offers a dynamic combination of a high quality product and exceptional service. Lorin combines top level service with innovative technology to deliver incomparable website planning, design and maintenance with a personal touch. With a winning team of global designers and computer programmers, and Mr. Morar's expertise at their disposal, clients are always in the right hands. ke Solutions Inc. can evolve your website into a concise, efficient and productive one, that reaches a far, wider audience with positive results. Empower your company's online presence and stay a leap ahead with ke Solutions Inc.!
For more information please contact: