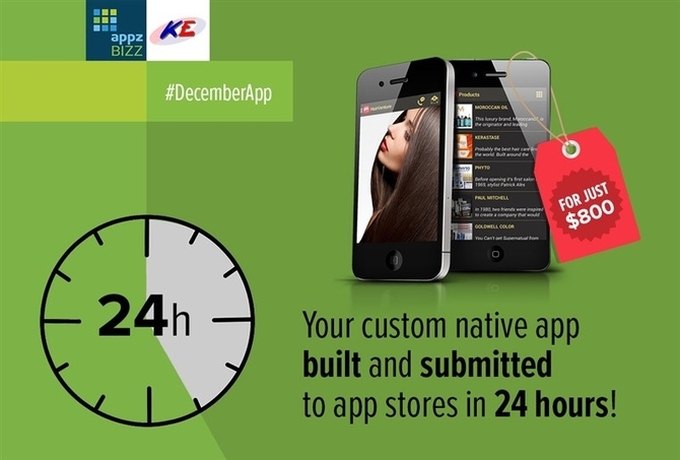 If you follow us on Facebook, Google plus, Pinterest or Twitter you are probably up to date on our latest "ruinous" offer. ke Solutions, in partnership with AppzBizz - and for this month only! - offers premium custom built native apps are at just $800 and we pledge to get them ready and published in 24 hours or less (from the moment we have all the necessary content information).
What's in the offer?
Essentially, we have slashed down the price and decreased the amount of time for your app to be built and published:
we dropped the development fee from $400 down to absolute zero
we have reduced the annual fee from $1000 to $800
we have pledged to get your app built AND published in 24 hours or less.
This creates the uniques situation where our Premium package costs less than our Standard package, while leaving nothing that makes it attractive aside.
App Features you can choose

Your app can incorporate a variety of features you can freely choose from. Here is a list of our top features based on customer demand:
Vouchers - A special invitation to your first-time customer that virtually guarantees his or her visit to your location.
Loyalty Card - Dedicated to loyal customers that keep coming back time and time again.
Refer a Friend - Offers your client the possibility to earn a bonus if he or she refers a friend.
Products / Services - Your customer does not need to remember, only check.
Surveys - Your very own customer opinion polling agency: insights were never easier.
Need to see an example? Open this link to our demo app on your smartphone if you want to see an app in action!
Get your own app in 3 easy steps:
1. Complete the form by clicking here and send us the payment to ​activate the special offer.
2. Send us information and images you want to appear in the app by using this form.
3. In 24 hours or less you will receive an email notifying you that the binaries have been uploaded to Apple and Android stores, alongside all the important information about your app, as well as advice on how to get the most out of your apps.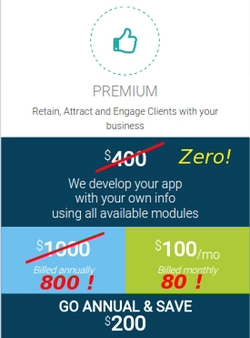 Our team will follow up with you on regular basis to answer any question you might have and provide further useful tips on how to maximize your app's usefulness.
Let's celebrate together!
The last 8-9 months demonstrated the tremendous growing potential of our app building platform: we have dozens of published apps and many other in various stages of progress. We have discovered that demand for custom native apps for small businesses and even individuals is quite large when apps come equipped with a solid set of business and marketing tools, a conclusion that was reinforced by the very positive feedback we have received at this year's Web Summit in Dublin.
For a newly minted do-it-yourself mobile app building platform we have come qute far: we started with a great marketing idea and a fantastic business model. So far this app building platform has proven to be a very good seed planted in a very fertile soil!
We wish you fantastic holidays and a buzzing New Year!