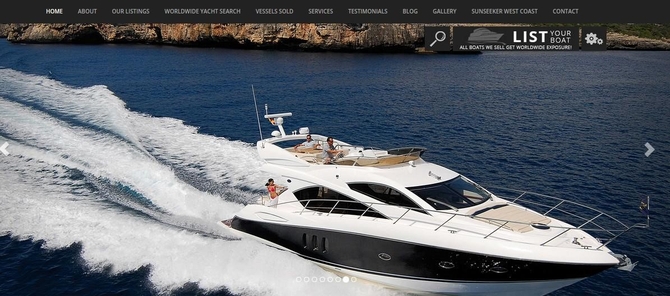 You could say we did nothing special to land the job of redesign and maintenance of Rick Obey & Associates website. We just kept doing our best for each and every customer. And word gets around; yes, it does take time to build a reputation. If you are patient, though, this ghostly thing we call "good reputation" comes back to you in the form of a recommendation of a pleased client to a friend, or a business partner or simply an acquaintance of another prospective client. In short, our reputation for quality and cost efficiency was the business card that introduced us to Rick Obey's yacht brokerage firm.

Rick Obey & Associates have expanded considerably in recent years but the same could not be said about their website (see a screen capture of their old homepage above). Sensing the pulse of the market - a lot of mobile searches and demand for online availability - Rick Obey decided to radically re-design and expand the website and make it fully responsive (i.e. adapting to the display of any smartphone, tablet or large computer screen). If you want to see how well we did on this, check it own on your smartphone or input the name of the website in our own responsive design checking tool.

We had extensive discussions with Rick Obey & Associates about design: they were very keen to show a completely business-like, simple and sober facade while keeping a note of adventure as well. The design team at ke solutions readily built wireframes (about six of them) to incorporate various requirements our client added to their wish list. The end result is a flat design that is almost monochrome, especially in the header or footer to draw attention to the beautiful photos of yachts that are placed in between.

In terms of functionalities, the new site we have created brings superior search power into the hands of any visitor. If you visit the site you will notice that search is always at your fingertips, wherever you happen to be on the RO&A website. For instance, below is a screen capture of the search panel that opens when you click the looking glass icon below the header.

Should a visitor want to use a more complex combination of criteria to look up boats, he or she can visit the Yacht Search page where any combination of criteria can be employed, as can be seen from the screen capture (below on the left). To aid the visitor wishing to expand their search we also implemented a worldwide search for yachts (below on the right).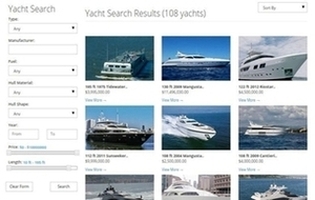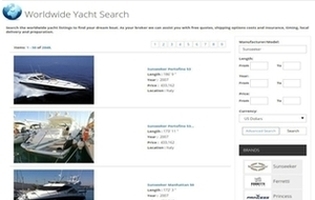 Not only can search for boats you can also list yours in the easiest possible way. All you have to do is click the very prominent icon below the header that reads "List your Boat" - you will be directed to a page where you will be asked to fill in the details and register (see the image below); and your boat will up for sale in no time.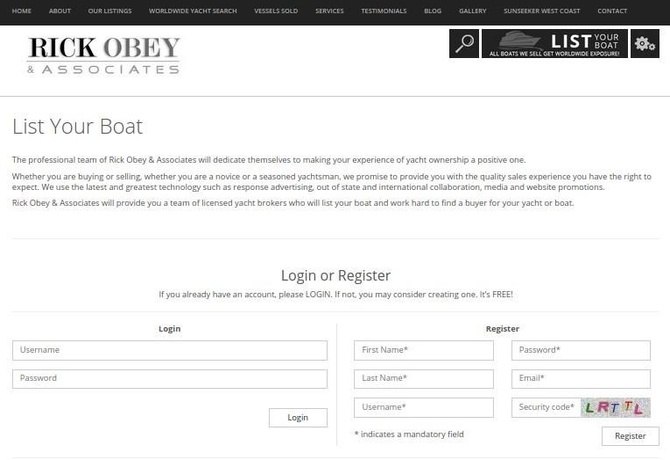 Rick Obey & Associates is the official distributor of Sunseeker yachts in California and West Coast Territory. Sunseeker's finest range of luxury motor yachts and the accompanying customer services is never far from their concerns. Hence they've asked us to dedicate a page specifically for the growing Sunseeker owner community (you can see a screen capture of this page below).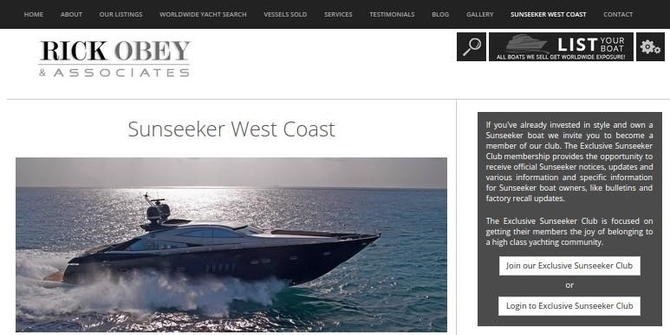 Expert marketing and full knowledge of the boats that pass through their hands are major assets, but Rick Obey & Associates also wanted to stress that they can aid a customer in almost anything that has to do with boats: their Services sections is impressive by itself, as you can judge by yourself from looking at the screen capture below.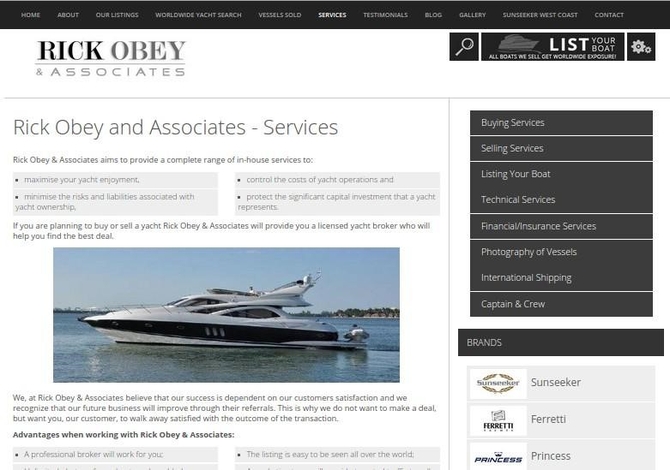 Of course implementing search or listing or a comprehensive list of services related to buying, selling or maintaining boats is not enough to have top notch luxury yacht brokerage website. Rick Obey's firm is all about customer satisfaction and open communication. Currently, the footer has detailed information about how to stay in touch with them via email or a host of social media channels they maintain (Facebook, YouTube, Google+, Pinterest or Instagram). In addition to that we have added a blog section where the company posts relevant information about boats, sales, events and a bit of trivia and fun stuff (see the image below).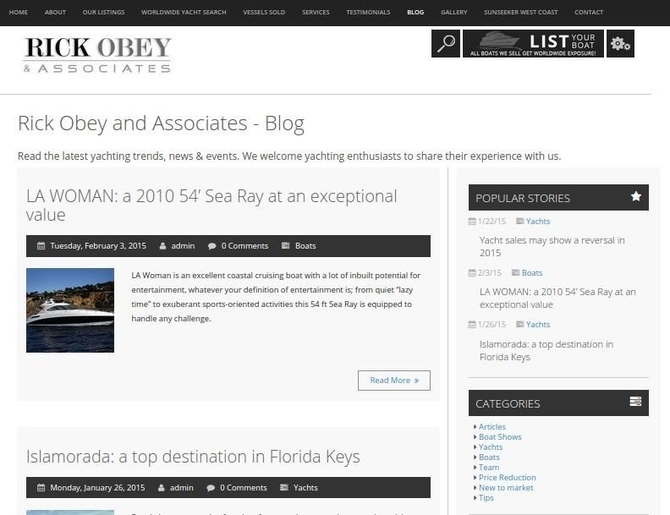 Almost immediately after the redesign their website statistics saw a surge on all indicators proving that their partnership with us produced something that is "more that the sum of its parts".
ke Solutions is determined to remain highly flexible, cost efficient and quality driven provider of services. Our reputation is our business card. Do you have site you've outgrown? Contact us and get a quote. ke Solutions is determined to remain highly flexible, cost efficient and quality driven provider of services. Our reputation is our business card.