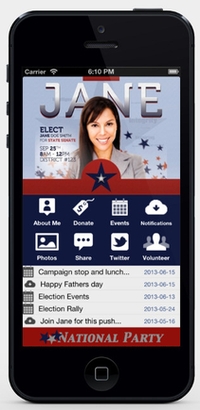 Less than a month ago, Search Engine Land published Byrne Hobart's blogpost on the possible roles SEO can adopt in political campaigns. Essentially he shows how SEO is fast becoming a must-have in at least three domains: online reputation management, controlling the news cycle and rank cranking on certain issues that are deemed crucial to a candidate or party.
The connection between SEO and political campaigns is not something new, even though the excitement about the possibilities offered by a top-notch SEO in a political campaign is constantly on the rise. Blogs tend to re-address the issue periodically; as posts go, Byrne's post is pretty good because it makes the effort to think through some scenarios.
Now, at ke Solutions, we never actually got involved in any work that is even remotely related to politics. But we do one thing that could be a huge boon for a political campaign that Byrne's post sadly did not mention: customized and customizable apps.
A dedicated App is a great tool that can significantly boost your commercial performance if well designed and properly marketing. The single most significant advantage is that it creates a direct link to a customer and provides you with a history of interactions between your business and a client. Invaluable, if you think about how local groceries operated before the advent of supermarkets (and, in some case, even after!).
No wonder then that the idea of a dedicated app used in a political campaign rings true to us. We've designed apps and seen them do their magic; why not use if for a political campaign?
A short search showed that others had the same idea and even implemented it. Check out the Tinycandidate app - the proof that good ideas work as well in politics as they do in business.
Why publish a post about SEO and politics when are not actually providing this type of service? Simply to illustrate that if politicians (or their staffs) already started adopting the idea of dedicated apps for political campaigns your business is sadly out of sync with the times. It was the business sector that saw the potential of the internet, not politicians. They caught on much later. So you need to ask yourself this: why is it that I don't have an app already?!?