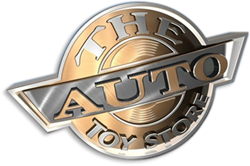 The Auto Toy Store is pleased to announce the launch of their blog, where they provide for exclusive information about the world's rarest exotic and luxury vehicles.
Passionate car lovers can become a part of a growing community that shares the same interest in luxury cars. As a member, one gets access to a wealth of information about the luxury or exotic car of your interest, the latest news from the industry and exclusive content.
Recent statistics show that luxury car sales are growing at record rates. In fact, according to a report in the Guardian newspaper, sales of Bentleys in the United Kingdom are up 60% this year. In the United States sales reports show a growth of 35%.
The Auto Toy Store, known for some time as the world's largest exotic car dealer, remains a staple in the market by providing the best services to their local and international customers. Over the past 30 years of activity, The Auto Toy Store has achieved impressive sales results, having done over a billion dollars in sales.
Honesty and integrity, the two primary attributes their business and customer relationships are built upon, make the Auto Toy Store an exclusive source for their client's automotive needs.
The Auto Toy Store has access to the world's rarest exotic and luxury automobiles providing its clients with multiple options when deciding over the purchase of the best suitable vehicle. Since their priority is to serve their customers in the best possible way, the Auto Toy Store always works on making the purchase of a car as simple and convenient as possible. They take pride in providing a safe and prompt delivery of the client's vehicle anywhere in the world.
Get in touch with passionate car lovers at The Auto Toy Store blog and share the passion for luxury cars, make comments and suggestions and learn more about the luxury vehicles that interest you.
The Auto Toy Store is well known for providing luxury and exotic vehicles to thousands of executives, celebrities and athletes around the globe. The secret to their success lies in the continuous adaptation of their business model to the ever changing economic climate.
About ke™ Solutions, Inc.
ke™ Solutions, Inc. (www.kesolutions.biz) under the guidance of its CEO, Mr. Lorin Morar, provides a plethora of services from branding and website development and design, to search engine optimization and optimal content performance. The proprietary ke™ engine software, that stands at the core of ke Solutions services, is an advanced software tool that enables companies to leverage their online presence by giving them the power to easily create, update, optimize and maintain their own websites. Stand out of the crowd and take a leap ahead with ke™ Solutions, Inc.!
For more information please contact: