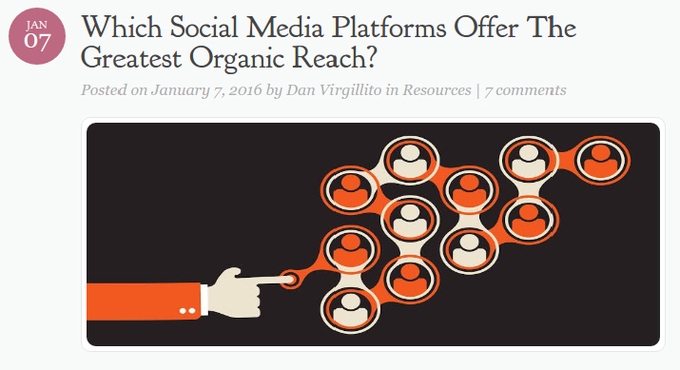 A must read - that's how I would characterize Dan's post. The title is somewhat misleading because it implies that there are winners and losers. There are, in fact, relative winners and losers, but only relative ones. The most important thing one can take home is the so-called Facebook Zero phenomenon - the gradual loss of organic reach for Facebook (and some other social media platforms) plus what you may do about it.
Without much ado, here are the reasons we recommend this blog.
Pointing to the problem
Let's start with this graph: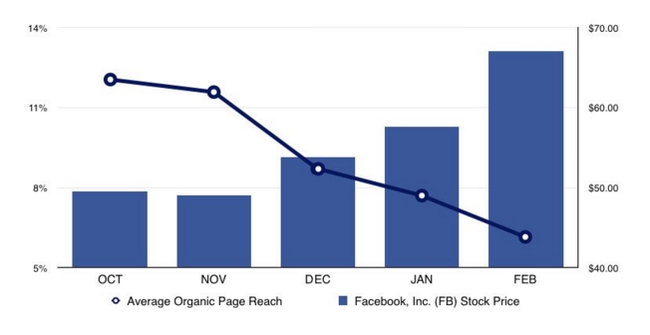 Note also that the data are for 2014. We are now in 2016 and from what I could gather from here it looks to be worse: organic reach tends to be around 2% for well-liked pages and 20% for pages with likes on the order of hundreds to less than a thousand.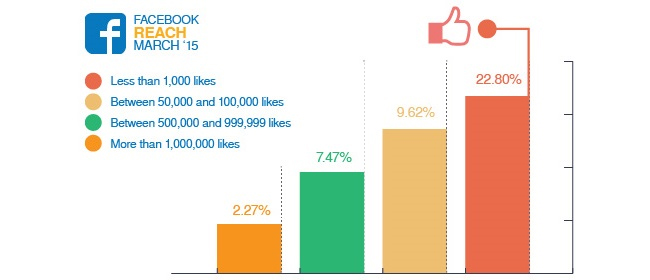 If, at this point you are becoming as frustrated and as intrigued as I am by this, read Dan's blog in full. The bottom line is this: "...social media platforms with the most organic reach in descending order are Instagram, LinkedIn, Pinterest, Twitter and Facebook. That said, the choice of platforms to promote your brand depends on your marketing goals and the demography of active users you want to reach on the platform". This, of course, reinforces the idea that you cannot take shortcuts when it comes to organic reach.
Pointing to a new (and free) tool
Another reason for liking this blog is that I've discovered (while looking things up and checking the accuracy of these claims) a link toward barometer.agorapulse.com - another tool you might want to bookmark. AgoraPulse provides a barometer in real-time for Facebook results, plus you can additionally benchmark your own page(s) and see how you are doing.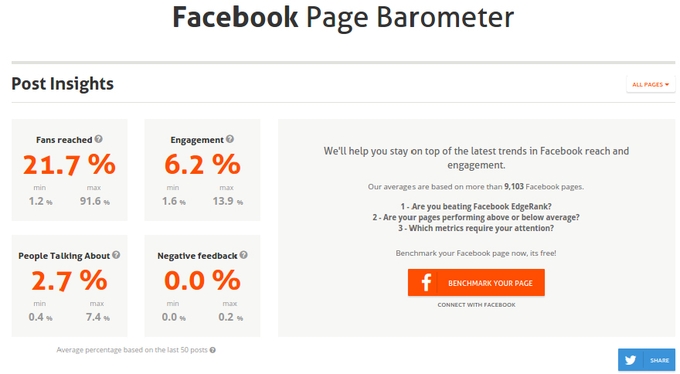 Pointing to solutions
Whining can be gratifying for some people, but it is of little use in real life. So I was glad that this blog took the time to point out that there are some solutions one might try out according to this infographic from QuickSprout. You may safely skip the top half and look directly at some strategies to overcome organic reach scarcity. Here are some of the things we were already implementing for our clients:
Showing what's going on inside the company. As opposed to concentrating on sharing content from others or reiterating known stuff.
Sharing original behind the scene photos of your team / company. Quite similar with one above. Our own experience at ke Solutions mirrors this: people what to be able to picture faces and personalities behind a business facade.
Engaging community with questions. Less sure about this; sometimes it works, sometimes it doesn't. We don't rely on this so much, but neither do we ignore it.
So, there you are. All the reasons this is a worthwhile blog to read and some of our thoughts after reading it.