Ft. Lauderdale, FL - January 19, 2011 - ke™ Solutions, Inc. has announced the launch of a newly designed website for Piscari that inspires customers to discover new products, as well as interact with fellow fisherman.
The owners of Piscari have significant experience with buying and distributing fishing tackle all over the world. The main focus of their business is to not only offer great products, but also to provide the best service on the market with fast deliveries and good guarantees. In addition, the Company is committed to offering professional advice and support to their clients. They make it a priority to respond in a timely fashion to all inquiries. The Company sells their products only online and by mail order which enables them to offer their products at the lowest price possible. Customers can shop in a secure, online environment 24/7.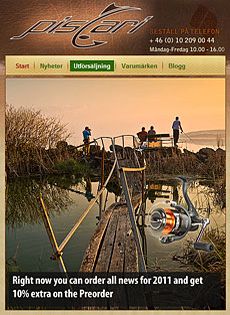 Piscari enlisted the services of ke™ Solutions, Inc. to create a site that would be interactive with the customer. New technologies were incorporated into the site to engage customers in a way that hadn't been done before. The site allows the consumer to get involved and be inspired by the products.
One of the key new features gives fisherman the ability to share their experiences with Piscari products which is something completely new in this market. If a customer catches a lot of fish with a particular product, they can share comments with fellow fisherman on the site. Consumers can also observe how different bait will move in the water prior to purchasing it using the embedded video features. "We have received tremendous feedback from our customers. They love the new features," stated Amer Zukanovic, Piscari co-founder and owner.
"Production of a new website is normally very time consuming, and there are a lot of small details that need to be put in place. ke™ Solutions, Inc. has been an invaluable partner in this process. Their team is extremely competent and helpful. They take the time to make all details perfect which has made the difference for us between an ordinary site and an extremely successful one," continued Zukanovic.
"Our objective was to help Piscari reach their goal of becoming the market leader in Scandinavia," stated Lorin Morar, president and founder of ke™ Solutions, Inc. "Piscari's entire business is dependent on the quality and function of their website. Our team took the time to understand their needs, and then delivered in a timely and cost effective manner. Our clients' success and satisfaction is our primary goal," continued Morar.
About Piscari
Piscari (www.piscari.se) opened for business on the internet in October of 2009. The Company's mission is simple – offer customer's unique products for sport fishing at affordable prices with the best service available in the industry. This mission is accomplished through utilizing economical purchasing channels, highly efficient logistics, and a superior website. The Company is also able to offer its products at reasonable prices by selling only on the internet and by mail order. Piscari services the European sport fisherman market meeting the needs of fisherman of all skill levels from beginner to professional.
About ke™ Solutions, Inc.
ke™ Solutions, Inc. (www.kesolutions.biz) under the leadership of Mr. Lorin Morar, offers rapid website development and design, ensures optimal content performance with the proprietary ke™ engine website software, as well as custom software solutions and search engine optimization. The ke™ engine is a software package of development solutions designed to allow companies to leverage the web by giving them the power to create, update and maintain their own websites. With a team of highly experienced global designers, computer programmers and SEO experts, as well as an emphasis on quality service, ke™ Solutions, Inc. is unparalleled in meeting and exceeding client's expectations. Empower your company's online presence and stay a leap ahead with ke™ Solutions, Inc. ke™ Solutions, Inc. offers a variety of hosting solutions ranging from unmanaged websites to custom software development and geographically dispersed deployments. Our commitment is to provide the best possible experience to all our clients by supporting a wide range of hardware and software technologies based on individual needs.
For more information please contact: