ke Solutions, developer of dynamic web presence powered by proprietary ke™ engine, announced today the launch of Sanastar's business portal www.sanastar.com to promote Sanastar's WizKid, the absorbent antibacterial mat that improves public restroom experience.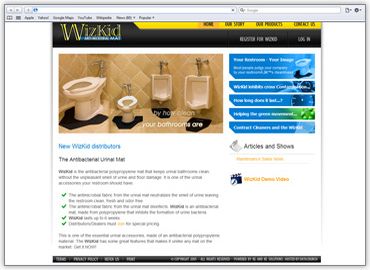 WizKid technology was invented and patented by Sanastar in 1996. In order to promote their technology to the world, Sanastar initially turned to ke Solutions for a complex, content rich dynamic website to present their case to their potential customers and to help with branding and product awareness. The amount of content available on the newly created website instantly propelled it to the top of search engines resulting in very positive feedback and generating a large backlog of orders.
"We backordered large quantities of our product even before we were able to receive our first shipment from our factory. We had to scramble to fill orders in a timely manner, the ke™[Engine's] power to generate sales just caught us off guard. We were impressed with portal's flexibility and speed of implementation." said Jeff Crevier, president of Sanastar.
As a result of the tremendous success of the initial launch, Sanastar no longer needed brand and image development and instead requested conversion of their portal into a distribution point by integrating shopping cart with automatic discount capabilities, while allowing separate pricing for larger distributors. Thanks to the ke™ Engine, Sanastar was able to change the look and feel of their website overnight and turn it into viable web-based business.
About Sanastar
Sanastar developed an antibacterial absorbent mat, which when placed under urinals will ensure a more sanitary experience and will eliminate foul odors frequently associated with public urinals.
About ke Solutions
ke Solutions provides superior service in website planning, design and maintenance with exclusive use of ke™ Engine, which is capable of building dynamic content from bits of information stored in a database. This engine allows for nested content, rotating pages, calendaring and schedule display, embedded message boards, shopping cart, feedback forms and many other services built around content already available in the database. Dynamic management allows for simple look and feel changes without the need to modify a single piece of content. The administrator can add or remove additional services, or make them available to premium users (such as discounts for Sanastar's distributors) with just a few clicks of a mouse.
For more information please contact: