Answering the call of the future and the needs of their clients, J.R. Jewelers decided to bring their personalized 'boutique-style services' home by creating a website that would inform, educate and provide a safe jewelry shopping experience from the convenience of your home. They needed a reputable and dependable web designer who would help them meet their goals... and found that in ke Solutions Inc. With acute attention to detail, ke Solutions Inc. assisted J.R. Jewelers in creating the ultimate jewelry shopping experience that offers customers a wonderful sampling of jewels, while confidently being able to shop with secure transactions.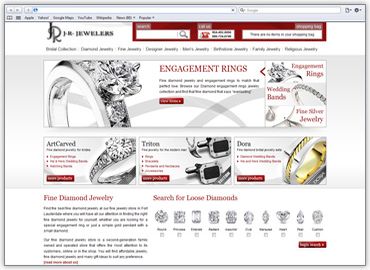 With luxury jewelry of exquisite taste, J.R. Jewelers in the heart of Fort Lauderdale, 35 years strong, is a family-owned and operated gem offering a stunning collection of yellow gold, white gold and platinum classic jewelry, as well as custom-designed and handmade unique creations to suit every taste and style. You are cordially invited to explore this rare find through the latest masterpiece - their website, and research over "10,000+" loose diamonds from their online inventory. At your convenience, enjoy the gorgeous bridal collection and designer jewelry, browse through the children's selections, religious- inspired pieces and the new, sexy Men's Triton collection while receiving an education on precious jewels!
Through a blossoming friendship, Tania Gracia, artistic director/editor and third generation daughter of the J.R. Jewelers family, discovered Lorin Morar, CEO of ke Solutions Inc. and architect of ke engine, state of the art website software. Joining creative forces to design a visually breathtaking interactive website, these two companies have raised the bar on what a website should entail. With his personal guidance, Mr. Lorin Morar dedicated himself to educating and instructing the J.R. Jewelers family on how to navigate and maintain their own website. Beginning with a straightforward, simple-to-use inventory database template and the capability to edit web pages easily, the use of ke engine has given J.R. Jewelers the confidence to establish their online presence and maintain the website themselves. ke Solutions Inc. added an incredible loose diamond search feature with limitless capabilities to narrow down your search options with precision. Both an industry-standard secure socket layer transmissions protection (SSL) and a LIVECHAT feature were added to ensure a customer-friendly experience while shopping online. The website is so well organized that it allows customers to shop by product, material, category, price range and designer with shopping cart integration.
Once the client has mastered the basics, ke Solutions Inc. steps back and allows their client to take control of the direction their website takes. Only a phone call or email away, ke Solutions Inc. is always available to advise, design and trouble shoot with its own team of international web designers and computer programmers whenever a need arises. According to Tania Gracia, this joint endeavor has "proven to be a huge blessing for our company".
About J.R. Jewelers
Co-owners and spouses, Josephine and Robert J. Mushro have dedicated themselves to providing affordable luxury jewelry with personalized attention to detail, exceptional customer service and an exotic array of custom and handmade pieces from around the world. J.R. Jewelers, always in search of fine jewelry of the highest quality with a unique flair to offer their clients, will be introducing their new line of sterling silver and 18Kt gold combination pieces. With artistic finesse, Tania Gracia photographs and showcases many of these unique pieces with a beautiful slideshow on the website. Be sure to check out their new and improved newsletter "coming out in November filled with helpful articles, special discounts and gifts of the month"! Free shipping and gift wrapping are also available.
About ke Solutions Inc.
ke Solutions Inc. 'a notch above the rest' is under the leadership of CEO Mr. Lorin Morar. This Romanian-born, creator of unique ke engine website software offers a dynamic combination of a high quality product and exceptional service. Lorin combines top level service with innovative technology to deliver incomparable website planning, design and maintenance with a personal touch. With a winning team of global designers and computer programmers, and Mr. Morar's expertise at their disposal, clients are always in the right hands. ke Solutions Inc. can evolve your website into a concise, efficient and productive one, that reaches a far, wider audience with positive results. Empower your company's online presence and stay a leap ahead with ke Solutions Inc.!
For more information please contact: