Ft. Lauderdale, FL – May 17, 2010 – Ellen Brazer offers holistic counseling services for the mind, body and spirit. Her practice is located in North Miami Beach and clients can receive a free 30 minute consultation by mentioning the new website.
Ellen assists her clients utilizing a variety of tools to help them to move forward, face their fears, and become more whole and present in their lives. "When we face our fears, we can live with more trust and faith. I am so grateful to be a part of the consciousness movement on our planet," stated Brazer.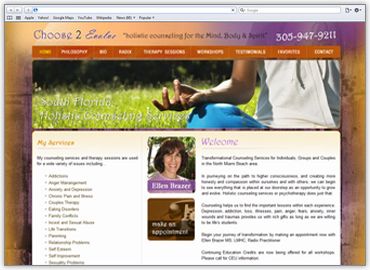 Brazer offers counseling services and therapy sessions for a wide variety of issues including: addictions, anger management, anxiety and depression, chronic pain and illness, couples therapy, eating disorders, family conflicts, incest and sexual abuse, life transitions, parenting, relationship problems, self esteem, self improvement, sexuality problems, spiritual crisis, stress and trauma, grief and loneliness. Brazer also conducts Group Therapy Workshops on weekends every other month. On Saturday, June 12th, she is offering a workshop on "Grounding and Healthy Boundaries." The workshop includes body focused exercises for loosening and freeing the body, relationship interaction to open both feelings and communication, as well as purpose work to understand and let go of patterns from childhood.
Clients can make an appointment or register for upcoming workshops using the new website, www.Choose2Evolve.com. The site provides detailed information on the services Ellen provides, treatment methodologies and philosophy, testimonials, as well as links to other helpful information. "I contacted ke™ Solutions because I wanted a website that would allow me to reach out to the community in a bigger and more meaningful way," continued Brazer. "The new website has allowed me to reach a much broader audience."
The website is deployed on a high quality hosting system by ke™ Solutions, Inc. ke™ Solutions offers a variety of hosting solutions ranging from unmanaged websites to custom software development and geographically dispersed deployments.
About Ellen Brazer, South Florida Holistic Practitioner
Choose2Evolve Ellen Brazer is a Licensed Mental Health Counselor and Certified Advanced Radix Practitioner. She has over 30 years of experience in her field. She practices a Holistic/Somatic Approach to Psychotherapy in her North Miami Beach, Florida office. Somatic Psychotherapy embraces a comprehensive and holistic approach which incorporates the body, where we hold our tension and emotion. She does individual, couples, family, group and workshop sessions with those that choose to lead a richer and more fulfilling life. Her clients come from all over the Miami, Fort Lauderdale and South Florida areas. She graduated from the University of Florida with a degree in Psychology in 1976, and received her Master's Degree in Counseling from Florida State University in 1978. She received her Radix Teacher Certification in 1994, as well as completing the Radix Advanced Training course. Ellen is also a Certified Supervisor and offers Clinical Supervision for Mental Health Professionals.
About ke™ Solutions, Inc.
ke™ Solutions, Inc. (www.kesolutions.biz) under the leadership of Mr. Lorin Morar, offers rapid website development and design, ensures optimal content performance with the proprietary ke™ engine website software, as well as custom software solutions and search engine optimization. The ke™ engine is a software package of development solutions designed to allow companies to leverage the web by giving them the power to create, update and maintain their own websites. With a team of highly experienced global designers, computer programmers and SEO experts, as well as an emphasis on quality service, ke™ Solutions, Inc. is unparalleled in meeting and exceeding client's expectations. Empower your company's online presence and stay a leap ahead with ke™ Solutions, Inc.
For more information please contact: