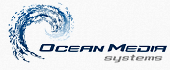 Ft. Lauderdale, FL - February 2, 2011 - Ocean Media Systems is a family-owned business operating in South Florida. The Company designs and installs systems for all types of vessels from Super Yachts to World-class Mega Yachts. The products and services that Ocean Media provides allow boat owners to experience media and technology aboard their vessel in a revolutionary way. The entertainment systems are the best the entertainment industry has to offer and the onboard automation and systems are state-of-the-art. All onboard technology is streamlined and simplified so that boat owners can relax and enjoy their boating experience.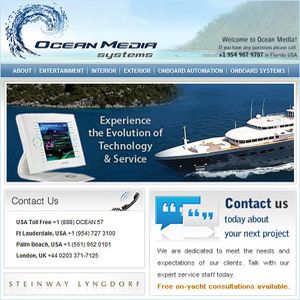 "Our team is always testing and developing new ways to bring technology shipboard in an easy-to-use, reliable interface. Having this new website, which is effortless to expand and update, allows us to communicate with new and existing clients in a whole new way. We are able to keep them apprised of the latest, most exciting technologies in our industry," stated Guy Whistler, Ocean Media Systems founder.
Ocean Media specializes in Interior and Exterior Entertainment Integration including 3D media rooms, indoor and outdoor theaters and multi-room HD; Onboard Automation Systems which allow for the streamlining of technology including temperature control, lighting, window coverings, music and security cameras; and Onboard Systems including surveillance and security, phone/intercom systems, VSAT Internet, and IT and computer networking.
"Since the introduction of our website, we have seen an impressive increase in our volume of business. Even in this difficult economic environment, customers are finding our site and enlisting our services. The site is visually appealing and presents our company in a very professional and compelling way. We couldn't be more pleased," continued Whistler.
The Company has numerous strategic partnerships which provide the ability to offer its clients the most comprehensive service available in the market. Ocean Media is a preferred partner of Rybovich Super Yacht Marina and Boatyard in West Palm Beach. Their partnership with Interior Audio of Vancouver, WA allows Ocean Media to offer service for its clients on the west coast.
About Ocean Media
Ocean Media (www.oceanmediasystems.com) believes in providing the highest level of client service and professionalism in the Yacht Entertainment System industry. Our client base has been largely built on referrals from Owners, Captains and Engineers. At Ocean Media, we always take that extra step to ensure that our client's expectations are exceeded. New build or retrofit, let us show you how our personal attention to detail will make your yacht stand out from the rest.
About ke™ Solutions, Inc.
ke™ Solutions, Inc. (www.kesolutions.biz) under the leadership of Mr. Lorin Morar, offers rapid website development and design, ensures optimal content performance with the proprietary ke™ engine website software, as well as custom software solutions and search engine optimization. The ke™ engine is a software package of development solutions designed to allow companies to leverage the web by giving them the power to create, update and maintain their own websites. With a team of highly experienced global designers, computer programmers and SEO experts, as well as an emphasis on quality service, ke™ Solutions, Inc. is unparalleled in meeting and exceeding client's expectations. Empower your company's online presence and stay a leap ahead with ke™ Solutions, Inc.
For more information please contact: