Ft. Lauderdale, FL – October 27, 2009 – ke™ Solutions, Inc. recently launched a new website for Salon Vaso, an elite salon located in the heart of Miami Beach. The salon services a global clientele, offers a full range of services, and features the creative talent of owner Vaso Spirou. Vaso, who is known for her work with curly hair, has over twenty years of experience with corrective color and hair styling, and trained in New York at the prestigious Dramatics Academy. She was recently voted as one of the best stylists in the world by Allure Magazine. She is also certified in Hothead Hair Extensions and wigs. The salon is located just off Ocean Drive at 1500 Alton Rd., 2nd Floor, in Miami Beach, Florida.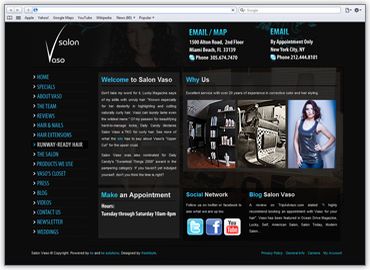 ke™ strategically built the site knowing that www.salonvaso.com is the salon's primary marketing vehicle. The Search Engine Optimized website creates a compelling virtual experience, providing ease and efficiency of use for clients wishing to make appointments, as well as an interesting and enjoyable experience for visitors who simply want to browse the site without a specific destination in mind. "The site gives me the ability to interact with my clientele through links to my blog and social networking accounts," stated Vaso. "Since we launched the site, I have seen a dramatic increase in our client base, including international clients who are able to find the salon and make appointments before they even arrive in Miami," continued Vaso.
"We are so pleased to play a role in the realization and growth of Vaso's vision," commented Lorin Morar, President of ke™ Solutions, Inc. "One of the most enjoyable parts of our business is the ongoing relationship we have with our clients. We strive to meet and exceed our client's expectations by providing them not only with the latest in design, but also full-service technical support. Additionally, ke™ engine, our proprietary, cutting-edge web engine, empowers website owners with the ability to manage their sites because it is simple to deploy and maintain, as well as easy to expand," continued Morar.
About Salon Vaso
Salon Vaso is the culmination of a life-long dream for expert stylist and colorist Vaso Spirou. Salon Vaso offers a full range of services including hair design, color, extensions and treatments as well as nail services. Lucky magazine recently featured the salon stating that Vaso is "known especially for her dexterity in highlighting and cutting naturally curly hair, Vaso can surely tame even the wildest mane." Located in the heart of Miami Beach, Florida, the salon also offers some of the finest products available for hair, skin and nails.
About ke™ Solutions, Inc.
ke™ Solutions, Inc. (www.kesolutions.biz) under the leadership of Mr. Lorin Morar, offers rapid website development and design, ensures optimal content performance with the proprietary ke™ engine website software, as well as custom software solutions and search engine optimization. The ke™ engine is a software package of development solutions designed to allow companies to leverage the web by giving them the power to create, update and maintain their own websites. With a team of highly experienced global designers, computer programmers and SEO experts, as well as an emphasis on quality service, ke™ Solutions, Inc. is unparalleled in meeting and exceeding client's expectations. Empower your company's online presence and stay a leap ahead with ke™ Solutions, Inc.
For more information please contact: