Ft. Lauderdale, FL - November 16, 2010 - The Christian Aid Foundation was founded in 1990, and its accomplishments are the direct result of the passion and commitment of its directors and volunteer staff. Two of the founding members are Petru and Rodica Morar, the parents of ke™ Solutions, Inc. President and founder, Lorin Morar. "My parent's compassion and dedication to helping those in need in their community has had a profound effect on my life," stated Lorin. "They have shown me what it means to work hard, and be fully committed to making a dream become a reality. It is my hope that this website will open a new avenue of support and awareness for the amazing work that they do," continued Morar.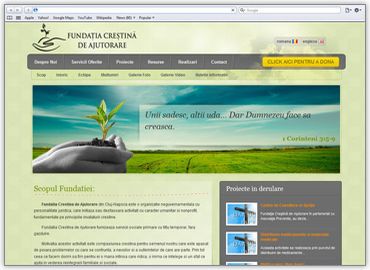 The primary projects that the foundation is undertaking at this time include building the Center for Advice and Support for Parents and Children, medicine and medical material distribution, the Big and Small, Friends are All program (which is similar to the Big Brothers, Big Sisters program), and the Youth Inquire project which is dedicated to the development of relational and communicating abilities, as well as the personal development of teenagers. "The results we have seen, encourage us to continue with this work," commented Petru Morar. "Many people in our community have lost hope. The poor economy, drugs, prostitution, and many other social problems have greatly affected our area. It is our hope that this center will be a place where parents and teenagers can turn for help and guidance."
The website is deployed on a high quality hosting system by DataCrunch Company and can be viewed in English and Romanian. Website designers at ke™ Solutions, Inc. are fluent in multiple languages, thereby enabling them to work with clients from around the world, and providing customers with the ability to develop a far-reaching Internet presence.
Donations to the Christian Aid Foundation can be made via the website.
About the Christian Aid Foundation
The Christian Aid Foundation from Cluj-Napoca, Romania is a non-profit, humanitarian organization founded on the principal of Christian compassion for our neighbor who is utterly overwhelmed by the burden of the problems he is confronted with, by his needs and afflictions. Our desire is to be a helping hand which lifts them up, a heart which understands, and a mentor which can eventually direct them towards familial and social reintegration. Our organization is currently building, in partnership with Preventis Association, the Center for Advice and Support for Parents and Children. Programs at the center include: mentoring for children in high risk situations; groups for developing life skills in children and adolescents; prevention of substance abuse in children and adolescents; support groups and educational seminars for parents and other adults involved in children's education; and social and psychological counseling for children and parents. The organization also distributes on a weekly basis medicine and medical materials to the community free of charge. Some plant, others water... But God gives the growth. I Cor. 3:5-9
About ke™ Solutions, Inc.
ke™ Solutions, Inc. (www.kesolutions.biz) under the leadership of Mr. Lorin Morar, offers rapid website development and design, ensures optimal content performance with the proprietary ke™ engine website software, as well as custom software solutions and search engine optimization. The ke™ engine is a software package of development solutions designed to allow companies to leverage the web by giving them the power to create, update and maintain their own websites. With a team of highly experienced global designers, computer programmers and SEO experts, as well as an emphasis on quality service, ke™ Solutions, Inc. is unparalleled in meeting and exceeding client's expectations. Empower your company's online presence and stay a leap ahead with ke™ Solutions, Inc.
For more information please contact: