Ft. Lauderdale, FL - September 22, 2009 – Recognizing the need for a compelling new way to communicate with clients, Structurz Exhibits & Graphics utilized the services of ke™ Solutions, Inc. to create a website for the company that delivers power, flexibility and countless features at a reasonable price.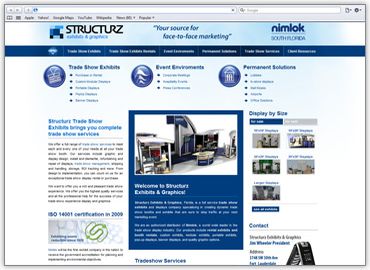 Structurz Exhibits & Graphics is a full service trade show exhibit and display company that specializes in creating dynamic trade show booths and exhibits. "In the current economic environment, we needed a better way to reach new and existing clients. With the help of ke™ Solutions, we believe we have accomplished that goal. ke™ has created a modern, timeless site that provides ease-of-use for our clients while allowing us to easily maintain and grow the site as our business expands," stated Jim Wheeler, President of Structurz.
In addition to the professional appearance of the design, the new site includes user-friendly navigation with expanded content on trade show exhibits for lease or purchase, event environments, permanent solutions, trade show services, and a valuable new client resource tool. The imbedded ke™ website engine provides an on-going content management system for creating and managing information.
ke™ Solutions' mission is to radically change the internet experience for its clients by empowering website owners with a cutting-edge web engine, which is simple to deploy and maintain and easy to expand. "It has been an absolute pleasure working with ke™," continued Wheeler. "They are incredibly productive with a very short turn-around time. We appreciated their vision and their goal-oriented work ethic. Their on-going support and input is invaluable."
About Structurz Exhibits & Graphics
Structurz Exhibits & Graphics is a full service trade show exhibit company specializing in creating dynamic marketing displays. Their design expertise expands to meet the exhibit needs of their clients for corporate events as well as permanent environments. They offer vibrant display designs, purchase and rental exhibits, dynamic graphic options, corporate event displays, kiosks, lobby environments, and airport displays. Their services also include installation and dismantling, as well as shipping and storage solutions. Structurz is the South Florida distributor for Nimlok, a worldwide leader in the trade show display industry, and soon to be the first exhibit company in the nation to receive ISO 14001 certification, a government accreditation for planning and implementing environmental objectives. The company is located in the heart of South Florida.
About ke™ Solutions, Inc.
ke™ Solutions, Inc. (www.kesolutions.biz) under the leadership of Mr. Lorin Morar, offers rapid website development and design, ensures optimal content performance with the proprietary ke™ engine website software, as well as custom software solutions and search engine optimization. The ke™ engine is a software package of development solutions designed to allow companies to leverage the web by giving them the power to create, update and maintain their own websites. With a team of highly experienced global designers, computer programmers and SEO experts, as well as an emphasis on quality service, ke™ Solutions, Inc. is unparalleled in meeting and exceeding client's expectations. Empower your company's online presence and stay a leap ahead with ke™ Solutions, Inc.
For more information please contact: