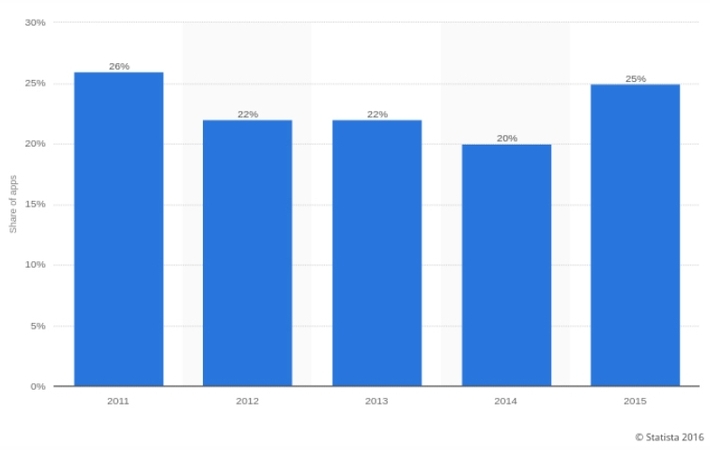 Apps are proliferating at an amazing rate: according to this Statista graph there were around two million apps registered on Google Play in February 2016 and around 1.5 million apps on Apple Store. Which made the next bit of data even more interesting: the percentage of apps used only once after their installation from 2011 to 2015 seems to hover around 25%.
Consider this for a moment. The implication is that at least 500.000 apps currently in Google Play store are not worth the electrical current used to keep them live on the server! And this is not considering who knows how many apps that were used only twice? Three times? etc.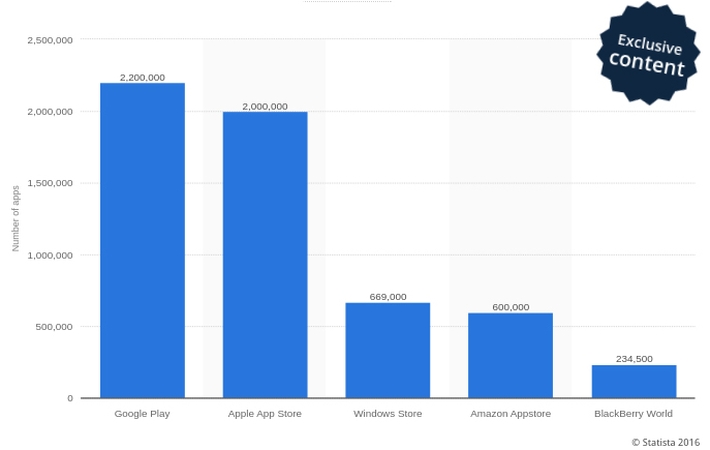 According to industry experts, there are different reasons causing users to lose interest:
too many features
too many push notifications
annoying ads
requests of unnecessary or poorly explained permissions
frequent crashing
slow connections
A study on the categories of apps only used once during the first six months of ownership shows that 23 % of sports apps and 22 % of game apps were most at risk of losing users.
Why produce useless apps?
Perhaps apps are easier and cheaper to produce? Cheaper and easier to acquire?
Now, while it is true that (on the average) apps are easier and cheaper to create than most other types of software, there is still a certain amount of time and resources a company has to devote to make an app. It is also true that an initial investment of time and effort can help app building company create modular apps very fast. keSolutions is a case in point - we can (demonstrably) build an app in just a couple of hours. Look again at the graph and ask yourself: how come app building companies are generating such high rates of failure?
Perhaps the explanation resides in the fact that simply take apps for granted and users download many free or cheap apps without a second thought (well, other that memory usage and clutter?) to later discover they never use them.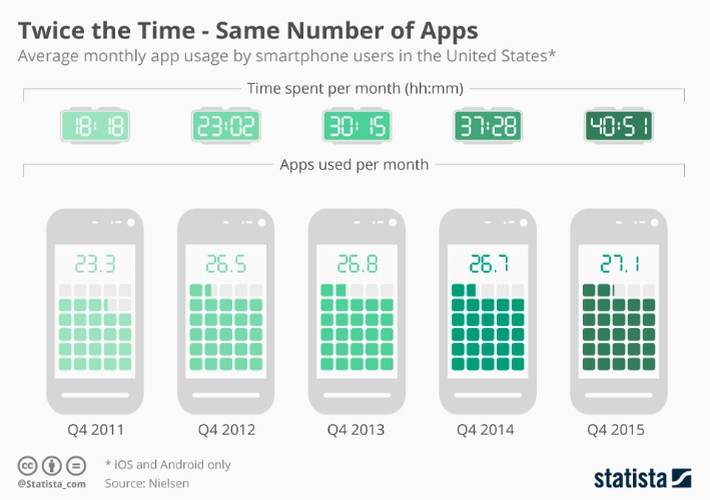 Things are even worse than that - consider the graph above. The amount of time people spend in apps doubled since 2011, but the number of apps that gobble up this time increased just slightly. It is a truism that time is a finite commodity, the implication being that it is an uphill battle for app developers.
Unless... Unless you abandon plans of "world domination" and focus on identifying a much smaller target audience that will use your app. It is not about your app, it should be about your business. And this is why ke Solutions doesn't do useless apps!
At ke Solutions we are utterly pragmatic when it comes to developing apps for our customers. If you want to develop a functional business app designed to help you make money, bring in in clients and manage brand awareness we think you need exactly this type of approach.
Get your own business app in 3 easy steps:
Step 1
Complete the form by clicking here and send us the payment to activate the special offer.
Step 2
Send us information and images you want to appear in the app by using this form.
Step 3
In 24 hours or less you will receive an email notifying you that the binaries have been uploaded to Apple and Android stores, alongside all the important information about your app, as well as advice on how to get the most out of your apps.
Our team will follow up with you on regular basis to answer any question you might have and provide further useful tips on how to maximize your app's usefulness.